Is Madagascar the Garden of Eden?
When entering the natural environment of Madagascar one may easily feel like immersing him or herself into an enchanted garden. The rich soil, conducive climate, and ecological farming – make it the ideal home for the abundant fragrant plants that grow there. We feel fortunate to responsibly work with this environment for our flavors and fragrances, and truly appreciate that privilege. For that, we have engaged in close partnerships with local farmers in Madagascar. We support them to create strong communities, farm sustainably and produce high-quality products.
In the next few posts, we'll bring you a detailed look at our work in Madagascar where we produce the popular natural extracts and essential oils everyone loves. Beginning with vanilla and ylang ylang, we'll share with you interesting facts about their origin, sustainability measures, cultivation process and how we work with Madagascar communities.
Madagascar: Queen Vanilla
Our 140-year Journey with Spice Royalty
You can find vanilla embedded in our DNA. From the discovery of how to synthesize vanillin by our founders (Wilhelm Haarmann and Ferdinand Tiemann) in 1874 to developing our own sustainable supply chain in Madagascar – vanilla provides a constant source of inspiration to us.
And now, over 140 years later, we are as passionate about vanilla as ever. Today, we belong to the world leaders in vanilla production as a result of decades of direct access to Madagascan savoir-faire. We feel honored and take pride in delivering the highest quality, certified, 100 % traceable Bourbon Vanilla from our sustainable and fair-trade partnering farms.
From everyday baking recipes to exquisite perfumes, vanilla is one of the most widely used and well-known ingredients for a variety of uses. Most people consume vanilla in some form or another. At the same time, many people only vaguely know where vanilla comes from.
Vanilla Planifolia belongs to the big family of 35,000 species of orchids in the world and is native to the flatlands of Central America's tropical rainforests. Starting in the 19th century, it began making its way to a whole host of countries near the equator, where it met perfect growing conditions. Today, Madagascar can rightfully claim the title as the world's largest producer of vanilla by far, accounting for 80 % of the global harvest.
Sava, the capital of vanilla
In Sava, you can feel the fertile heart of vanilla cultivation beating. In the northeastern Sava region, an acronym for its main towns Sambava, Antalaha, Vohemar and Andapa, mostly smallholder farmers cultivate almost all of the island's vanilla. It also provides home to our operations in Madagascar. We've been working in the Sava region since 2006, partnering with more than 7,000 farmers across 84 villages. As the only company in the industry with a local presence in the heart of the global vanilla production, we've been privileged to gain deep insights into vanilla cultivation over the past decade. We have learned from those who call vanilla a major part of life, and are sharing ambitious goals for the communities we live and work in.
Precise Handwork Required
The villagers get to know the green beans at a young age and they pass their know-how down through generations. Nearly everyone earns their living from vanilla – it is omnipresent. From pollinating to harvesting and a lengthy curing process, every stage of vanilla bean production needs thorough handwork, making it one of the world's most labor-intensive crops. Because the work process takes longer and requires more involvement than most other agricultural products, vanilla is the second-most expensive spice in the world, exceeded only by saffron.
Vanilla Cultivation Takes Lots of Skill
The natural pollinators of the plant, hummingbirds and certain bee species live in the far away equatorial belt of Latin America. Therefore, farmers in Madagascar have to pollinate the blossoms by hand. They have to do so in a very tight time frame between 6 to 10 am, and only on the first day that the blossoms open. After that, the blossoms close and wither away. The method of using a pointy wooden stick to bring pollen to the pistil, and thereby pollinate the plant, goes back to a discovery in 1836 on Ile Bourbon.
Pollination takes place during a short window in November and December only. The flowers begin to grow in December and it takes the beans at least six months to mature before harvesting can begin in May and end in August. Once harvested, they go through a curing phase from June through December. Then the whole cycle starts again with pollination.
It takes the perfect process to get the best extract. The freshly harvested, green vanilla transforms into shiny black, highly aromatic beans after a long cultivation process, mostly done by hand. It includes months of precise steaming, drying, sorting, refining, measuring, grading, testing and quality control until finally reaching the best grade.
Worth the Price
Because of its arduous cultivation process and the tiny amounts of vanilla each flower yields make the spice cost more than other spices. Consider: If you start with 600 vanilla flower blossoms, you can produce 6 kg of vanilla beans. Those 6 kg of green vanilla beans will make 1 kg of black beans. Imagine – you need 600 blossoms to get 1 kg of black vanilla beans!
Mutual Respect and Responsibility
Since opening our plant in 2006, we've been the first and only flavor and scent company to have its own operations in Madagascar. We have set ourselves the long-term objective to source all of our raw materials in a way that minimizes any negative environmental and/or human rights impact. Our dedication to creating shared value with Madagascar shows how we live up to our commitment. We respect the culture, farming practices and autonomy of the communities. We recognize it as our responsibility to do so. Empowering the farming communities by sharing knowledge, providing educational opportunities and working with them as partners show our respect for their contribution to one of the most loved fragrance and taste directions in the world.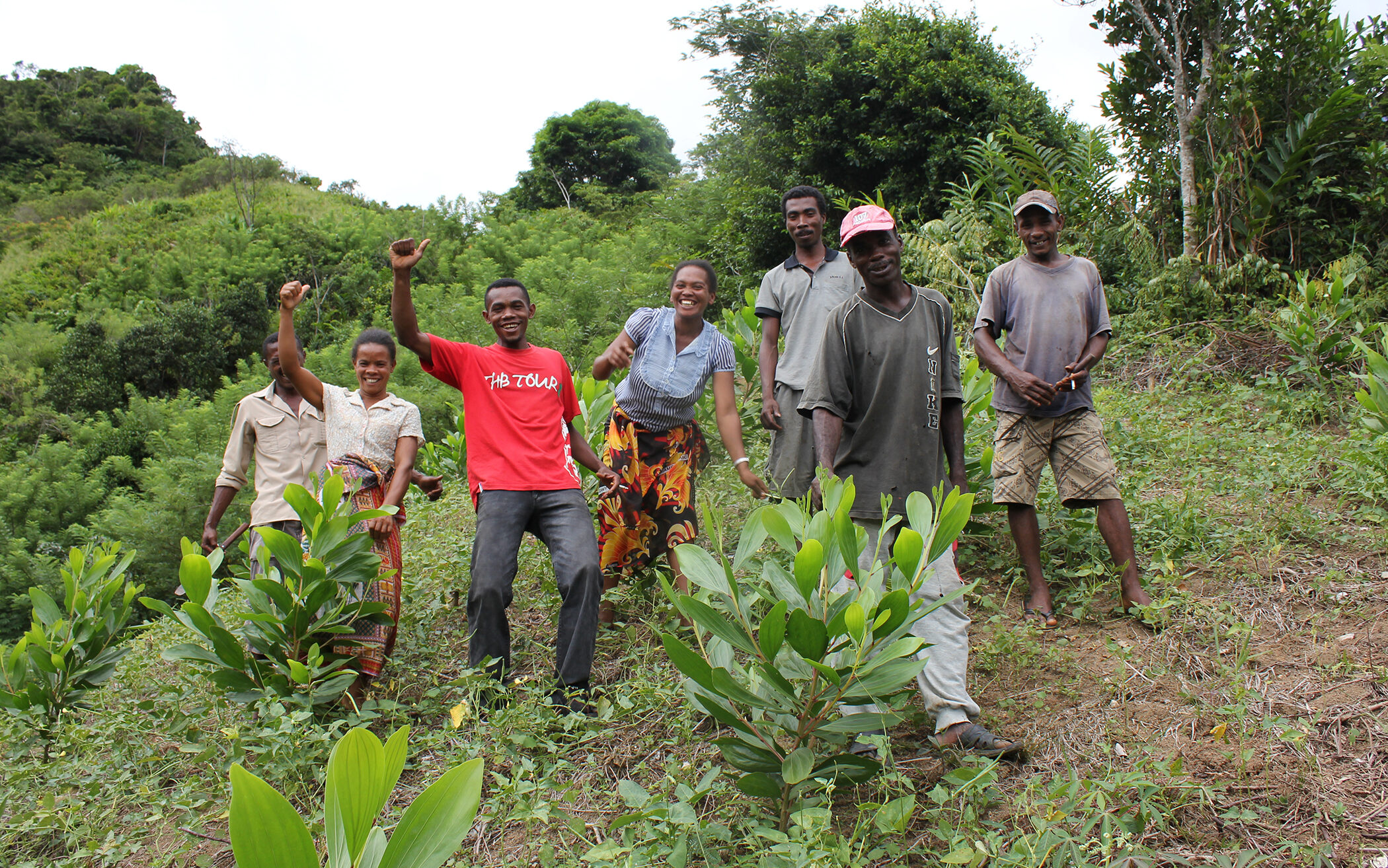 Empowering People: Our Holistic Approach with Vanilla Farmers, in Line with Our Global Sustainability Pillars
We care about people
It begins with human rights. We respect human rights throughout our entire supply chain. We also commit to pay fair prices that secure a living income for vanilla farmers. We promote income security in the form of farm management training, crop diversification programs and micro credits to cope with essential needs. Additionally, we support 76 primary schools and provide a livelihood enhancement for local communities that benefits 34,700 people. Moreover, we provide each person that works with Symrise access to a mutual health insurance for the family.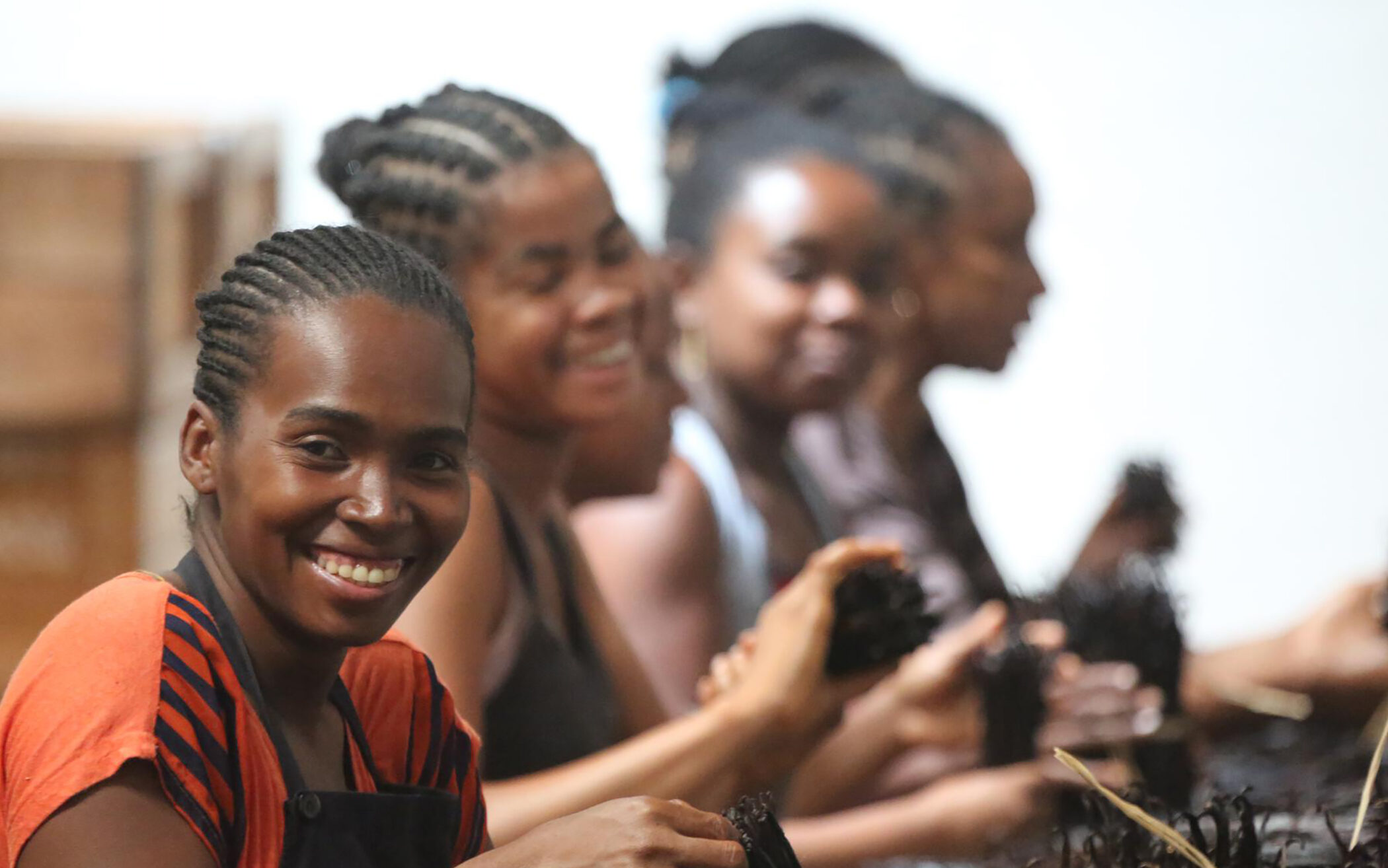 We care about education and improvement
Positive impact on farming communities and the environment have proven fundamental to the sustainability of our supply chain. We train our partner farmers on agricultural best practices and certifications so that we can improve together. External bodies conduct yearly audits on certified farms and perform quality control on vanilla beans.
We care about nature
We do care about the conservation of natural resources and promoting biodiversity. We have firmly embedded this into the sustainability approach of our company. That's why we have installed many practices to protect areas such as Madagascar's natural habitat. We have created a restoration plan set up for improving biodiversity, protecting and restoring the ecosystem. We have also initiated an educational program to train local farmers and residents to practice sustainable agriculture. We're working together with 208 teachers on environmental education for primary schools and partnering with Madagascar national parks for the conservation of natural resources & biodiversity. In the last decade, we have distributed 132,800 clove plants, 149,000 cocoa plants and 150,000 forest trees.
Sidebar
"I consider Vanilla Absolute Madagascar a unique ingredient for a couple of reasons. First, the humanity. It is very important for me to help people. I find the sustainable program created by Symrise amazing. So important. I also love vanilla for its olfactive facets: it brings a sweet, sensual, animal note and even has hints of black olive. I love it. I could swim in it!" — ALIENOR MASSENET, SENIOR PERFUMER
"Vanilla is the quintessence of femininity. Warm, sexy, mesmerizing…simply irresistible." — MAURICE ROUCEL, MASTER PERFUMER