A Rising Power Hitter
Today, we're taking you along with us to Australia, one of our favorite places for beauty and fragrance inspiration. As a young country (formally established in 1901) with the oldest continuous culture, Australia is the new – important – kid on the block. We're seeing many new exciting A-beauty products emerging that are innovative, easy-to-use, effective and environmentally friendly. Aussies, from their easy-going, laidback demeanor to their passion for the outdoors, have profoundly influenced the global health and beauty industry with beauty products that celebrate these qualities.
Sporty, No-Fuss Lifestyle in Sun
Born from the desire to head out the door for the nearest beach, soccer field or hiking trail, Aussies have developed products that cut down the beauty regime so everyone can have more time to enjoy the outdoors. Beauty doesn't have to be complicated, and A-beauty brands are great examples of that. Most products are quick and easy to use.
Skin care is especially important. Despite their love for the outdoors and hassle-free lifestyle, based on their spending habits, Australian women focus more on taking care of their skin than women from any other country. Aussies know the importance of proper skin care because Australia has higher solar intensity and UV than Europe and has one of the highest numbers of skin cases in the world. Sunscreen is un-skippable here! This is one of those areas where we see A-beauty showcase fabulous innovations. Some popular brands include Surf Life Saving Sunscreen, Ocean Australia, Milk Co and Invisible Zinc – all available in SPF 50+. Many sun care products are made to be easily slipped into the quick morning beauty routine. "We've been taught from a young age the importance of applying (and reapplying) adequate UV protection on every single day of the year. Lisa Patulny, founder of Call Time on Melanoma says. "It goes hand in hand with investing in hats and sunglasses."
Sun-free Suntan Solutions
Perhaps one of the best beauty secrets from down under is that bronzed, sun-kissed skin is not actually sun-kissed at all! Self-tanning products are a highly popular alternative to sunbathing, and so much better for your skin. Filled with botanical, herbal, vitamin and mineral properties, some of these self-tanning applications can leave skin better than ever. Illuminating Self-Tanning Mousse with natural ingredients Wattle Seed and Australian Clay, gives skin a healthy bronzed sheen while nourishing the skin. Wattle Seed conditions and Australian Clay regenerates and softens the skin to give it a radiant glow.
Beauty from the inside out
If you're looking for a well-rounded approach to looking good and feeling good, look no further than A-beauty. Vitamins for skin repair, tissue formation, nail and hair growth are very popular in Australia. So are probiotics and prebiotics. In other words, Australians have a deep understanding that beauty is very connected to how you take care of both the inside and the outside of your body. "Health and beauty are inextricably linked and when we are healthy on the inside, your skin radiates a natural glow that no amount of cosmetics can replicate," The Beauty Chef Founder Carla Oates says.
One popular product that's worth a try is Edible Beauty Native Plant-based Collagen Powder. It's infused with 100% vegan ingredients including Australian natives Kakadu plum, sea buckthorn and baobab. Antioxidant-rich fruits support healthy collagen production and help protect the skin against free radical damage. And, if you're looking to immediately increase your skin's hydration level, try Elissah All in One Serum. This triple action concentrate, topical facial serum enriches your skin with probiotics, prebiotics and bio actives and Australian native plant extracts.
Be the Best You with Customizable Products
Customizable beats one-size-fits-all. Here's the perfect opportunity to soar with creativity and have fun with DIY products. No need to be intimidated, Australian manufacturers have brought a simple approach to customization. In some cases, you can take a hair, body or skin quiz to find the right formula for you. In other cases, you start with a base product and add ingredients of your choosing. Skin JuiceFlower Juice, for example, allows you to blend vitamin C powder into your face cream. With Red EarthHappy Pills, you can add your favorite product to a compressed mask that expands once you add liquid. If customizable shopping calls to you, check out Biome Eco Stores. The chain launched the Naked Beauty Bar where shoppers can make DIY beauty products using natural ingredients and reusable jars. It's a win-win in customized shopping and zero-waste beauty.
Ancestor Secrets
The most special aspect of A-beauty is its long history, deep-rooted in ancient aboriginal wisdom. The Aboriginal people of Australia have lived on this continent for at least 50,000 years. Over that period, they have developed a series of treatments (AKA "bush medicine") using plant leaves, seeds or tubers for various ailments. This amazing history of medicinal knowledge presents an opportunity for us to reap the benefits of some of the most powerful health and beauty insight in the world.
Boodjera, meaning "earth – land – country" is one brand that has taken up the mission to honor and protect this treasured group of people and their culture. The natural skincare company collaborates with Aboriginal people and businesses across Australia, implementing life changing partnerships that give back to Aboriginal people. We recommend Boodjera Face Cleanser– Bush Honey & Clay, a blend which the brand designed to create a clear focus and positive outlook.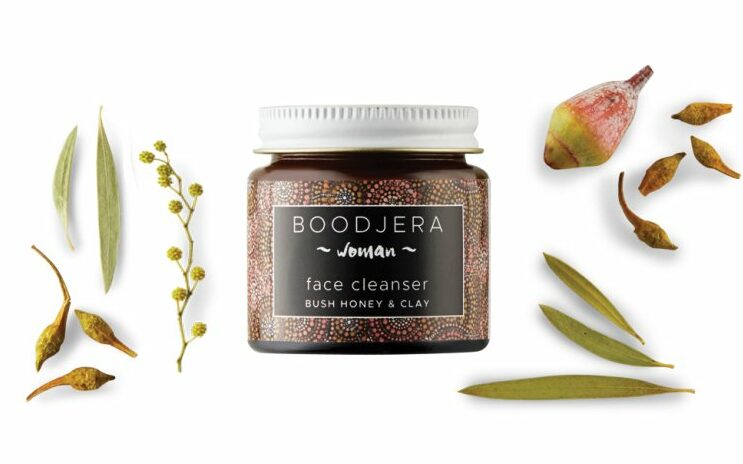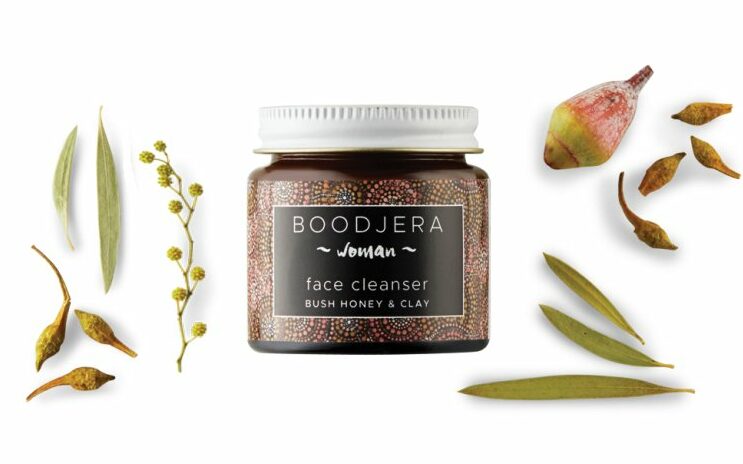 Powerful Native Plants
Australia is home to a multitude of uniquely powerful plants and fruits that flourish even though it's the earth's driest continent. Over the past few years, extracts from these native botanicals have been gaining recognition for their high potency and have been the basis for many beauty products. Kakadu Plum for example, has the highest source of Vitamin C in the world, 55 times more than an orange. It also functions as a UV-fighting antioxidant, reduces pigmentation and improves skin tone and texture. Found in the open eucalypt woodlands across Northern Australia, this mighty fruit is added to many serums and creams. Want to try a little Kakadu on yourself? Look for Wildcrafted Organics Wild Plum Illuminating complex or Ultra Violette skinscreen. Both are infused with this amazing ingredient.
Quandong (desert peach) is hydrating, brightening and anti-inflammatory. Brimming with restorative properties, it enhances skin tone, reduces signs of lines and has the second highest level of antioxidants in all fruits. Found in waterless areas across Australia, this superfruit is known to offer protection from harsh environmental elements. For this reason, products containing the fruit have become popular outside of Australia, especially in places like Southeast Asia, where there's a lot of pollution and all-day air conditioning. If you want some quandong in your life, you can find it in Dindi Lilly Pilly Solid Shampoo. Derived from coconut, this solid (like a soap bar) hair shampoo is easy to use, portable and conveniently free from plastic. Australian native fruit extracts of lilly pilly, quandong and rosella, all rich in vitamin c, help to strengthen hair follicles and soothe the scalp.
Protecting Native Botanicals
Australia's amazing native fruits and plants have been used in traditional food and medicine for 50,000 years, beginning with the First Peoples. It's no wonder Australians take sustainability very seriously. Aussies strive to protect these natural resources, so much so that sustainability is the baseline for the vast majority of brands. Most products are crafted to be clean with a focus on native plants. They're expected to be responsibly sourced, locally produced and available in recyclable packaging. "Perhaps these brands are innately better than their international counterparts because the ingredients used are derived from plants that must survive harsh climates. Or maybe Australia embraces natural beauty more readily than other countries," Beauty Consultant Jasmine Garnsworthy notes. "Either way, Aussie clean beauty just works."
From ancient ancestral secrets to powerful native plants, A-beauty offers a wonderous collection of beauty products. Have you tried any of them? What are your favorites? Tell us about it in the comments.