Imagine a future with healthy ecosystems, clean water, pure air, and healthy soil. Imagine we regulate our climate, allowing ice formations to stay intact and sea levels to remain in their natural state. Picture our oceans healthy and coral reef habitats thriving. We believe this is possible. Every decision our company makes can help bring us a step toward that reality.
This approach goes back until the early days of our company. Ever since Dr. Haarman and Dr. Reimer, Symrise founders, first synthesized vanillin from coniferic juice in 1874, using renewable natural resources forms our DNA. We understand the value of our resources, we feel proud of our century-long responsible heritage and follow the principles of green chemistry.
Green Chemistry
Green chemistry applies a specific number of sustainable design and development principles to chemical products and processes. This method finds creative and innovative ways to reduce waste, conserve energy, and replace hazardous substances. The ordinances include energy conservation, waste reduction, and finding sustainable and renewable resources — all utilized to improve our environmental impact.
Back in 1998, Paul Anastas and John Warner wrote the 12 Principles of Green Chemistry. They provided a visionary approach to creating chemicals in a way that protects and benefits people and the planet. We embrace this advancement, integrating it into our R&D and manufacturing processes by focusing on four essential criteria: safe use, environmental protection, resource conservation, and emission reduction.
The Symrise Four Fundamental Green Chemistry Criteria
Safe Use:
You rely on us to meet all safety and regulatory requirements. We go above and beyond the need. Our research team continuously creates new products that are safer and cleaner for everyone.
Environmental Protection:
We create wealth by upcycling by-products into valuable ingredients. We utilize biodegradable orange peels to create fragrance ingredients that benefit consumers and the earth.
Resource Conservation:
Globally, we face the ever-increasing global issue of raw material scarcity, non-biodegradable waste, and limited resources. Symrise has been using renewable plant-based by-products as ingredients since our founding days. In addition to using orange juice by-products, we also use derivatives from the pulp, paper, and sugar cane industries, for instance.
Emission Reduction:
We understand the impacts of climate change and have committed ourselves to taking action against it. We've signed up with externally verified science-based targets to limit greenhouse gas emissions. Our future looks clear – we plan on becoming climate positive from 2030 onwards.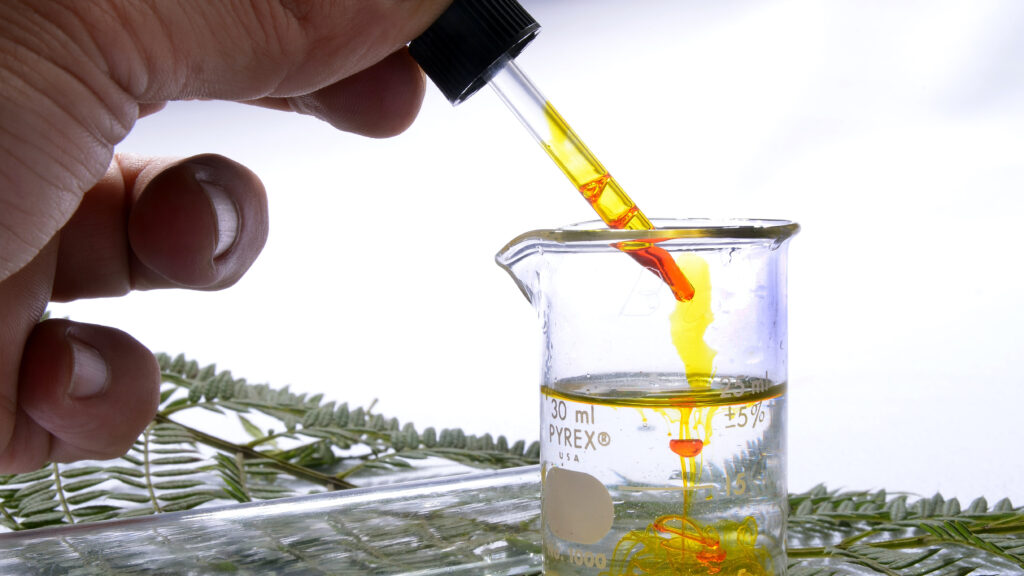 Our Ongoing Commitment to the Environment
Green Chemistry belongs to the past, present, and future of our company. We continue to employ the top chemists globally to help us find new and innovative ways to protect our precious natural resources.
For instance, Dr. Panten, a Symrise chemist, contributed to green chemistry's first publication on the fragrance industry. In 2003, we opened a Green Lab to investigate new molecules' synthesis via catalysis, develop chemical processes, and optimize existing raw materials processes with less environmental impact. We have hosted Dr. Roger Sheldon, a Nobel Prize winner known for creating the E factor concept (a method calculating the ratio of the mass of waste per mass of product), at our St. Niclas symposium.
We recognize that for a business like ours, we have embarked on a constantly evolving sustainability journey—one that we continue to pursue with energy and urgency. Thank you for joining us on our mission to keep the Earth healthy for everyone.
Together, we can make better environment-first decisions. What green methods are important to you? We value your thoughts. Tell us in the comments below.